Blogs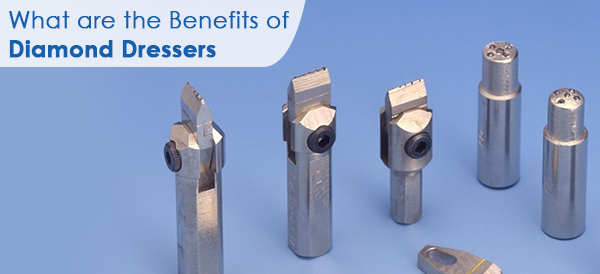 Diamonds have been used in several places and industries as some kind of drilling and cutting tool as we all know, they are the hardest of all materials you will find everywhere. When all these stones are mined, the higher grades are sent to all jewellers while ones that are of the lower grade are sent to toolmakers. There are many who believe that diamonds are used for making trinkets and jewellery when that is not entirely true. However they can be used for several other purposes as they help in drilling and cutting. The dressing tools are much cheaper than you think.
What should you know about diamond dressers?
Diamond dressers are of different types and are indeed very helpful. They improve the dressers versatility, have proper operation techniques and can be used for complex wheel profiles. Different points are used to make the diamond dressers more usable. For example if you use single point diamond dressers, using it will become easier and you will at the same encourage pronounced as well as frequent rotation. This will also improve the working life of diamond dressers and make it much easier. In that way the results would be much easier to get.
What benefits can you expect out of diamond dressers?
There are several tools which are needed for proper and accurate cuttings in several industries. Diamond dressers are always available in several designs and varieties such as cone points, single points, multi points and impregnated dressers as well as multi point. It has been used several times to improve the wheels, give it proper finishing etc. Original diamonds are dug up with the help of diamond dressers. Diamond dressers manufactures have an important role to play in this. The tools can be found in several companies inside the market as well. Apart from that, there are several companies that offer you products such as diamond powder, grit and diamond paste. Diamond powder that is deposited with the help of electroplating may be used in all grinding applications.
How are diamond dressers actually useful?
What you must also know about these diamond dressers is that they can be used to increase the glow and luster in these diamonds. Diamond powder may also be used for making precious stones, better looking and well shaped glasses, ceramic objects etc. They are indeed very useful to diamond dresser manufacturers and can be put to several uses. There are several suppliers who help their clients in improving the look of the diamond, restoring its look and beauty. Advanced looking diamond dressing tools may also be used.

With that, we could like to conclude our article. If you have enjoyed reading it and have found some benefit from it, do let us know in the comment box below. We would love to hear from you. Also if you have more ideas in mind, we would like to hear on that as well. Keep us posted on more details.